Four Courses was a ton of fun to produce, and my grand loves of food, cooking, culinary history, and the local St. Louis restaurant scene haven't gone anywhere, but the time and money necessary to put out the episodes has become a bit much, so the podcast has been put on permanent hiatus. That means its blog will probably go by the wayside, but I didn't want to lose some of the fascinating research I put into various food topics, so I'm going to edit those posts a bit, then port them over here. Then maybe I can spring into doing some new investigations!
First up is a post that is wonderfully relevant to this time of year. 'Tis the season for soups and stews, so you'll be hearing the words
broth
and
stock
a lot. But can you tell the difference? One of my old coworkers wondered aloud about what separates chicken broth and chicken stock, and I found I had no idea how to answer. Unacceptable. The two terms are often used interchangeably in everyday conversation, but are they really the same thing? Nope.
I thought it would be fun to try and guess what I believe the differences are before looking into the real answer, and ultimately, my prediction was that stock is the combination of bones, meat, water, and vegetable scraps that you cook down into liquid, and broth is the final liquid in a soup that you consume. That's not strictly correct, though it wasn't a terrible guess. It turns out there is no such thing as "strictly correct", because there are tons of reasoned opinions on the matter. Some people agree with my initial assumption; stock is a neutral base for soup that becomes broth when the solids are strained out and seasoning is added.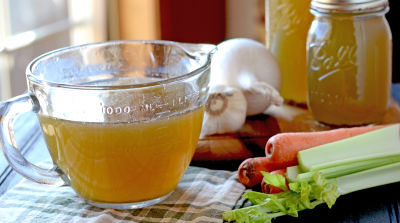 For other people, the key difference is bones. Stock would be made primarily of animal bones and trim, while broth would be made with actual meat, to provide a richer flavor. It's unclear how the people who follow this definition would separate vegetable stock from vegetable broth, though. Perhaps there is no difference to them unless animal products are involved. Some feel that stock turns into broth as soon as salt is added. Some feel that the minute you use a stock in a soup, it becomes broth, but remains stock if used in anything else. In all the articles I read, though, one thing is generally agreed upon: Stock is more of a component, while broth is more of a finished product.
It's unlikely the slight differences between the two will affect everyday cooking. If your recipe calls for chicken stock and you've bought chicken broth, you'll be fine. Now that this research has been done for you, why not make your next homework assignment making your own stock at home? It's healthier, cheaper, and tastier, and – bonus – your house will smell fantastic.